Skip to end of metadata
Go to start of metadata
Purpose
Record details of surgery performed as part of the treatment when required by the protocol.
Surgery eCRF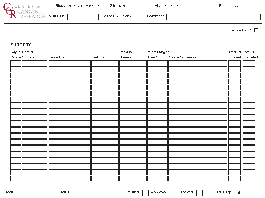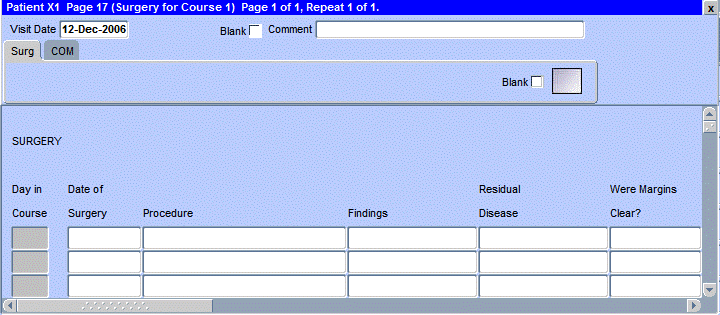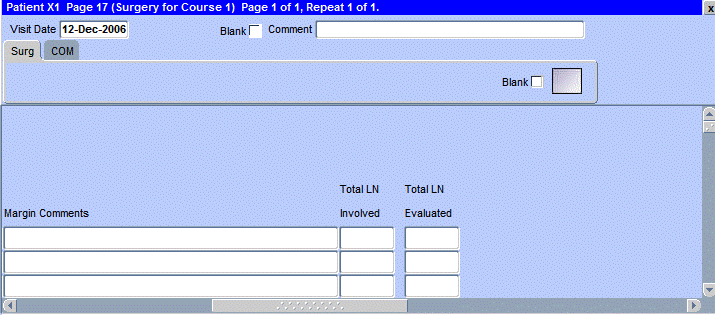 Field Name

Description / Instructions

Format

Visit Date

The Visit Date is optional on this case report form. Hit the "Tab" key to leave it empty and move to the Date of Vitals field.

DD-MMM-YYYY

Day in Course (d)

Indicates the day since the beginning of course the cardiac ejection fraction results are related to based on their date and time.

5 digits

Date of Surgery (m)

Enter the date of the surgical procedure.

DD-MMM-YYYY

Procedure (m)

Enter the type of procedure performed to diagnose / to treat the patient's disease.
Examples include, but not limited too: biopsy, node dissection, cytology, bone marrow biopsy, FNA (fine needle aspiration).

100 characters

Findings

Briefly describe the findings of the procedure.

24 characters

Residual Disease

Briefly describe the extent of the residual disease, if any, at the conclusion of the operation. (i.e.: microscopic, macroscopic).

24 characters

Were Margin Clear?

Select the results of tissue margin examination.

Use pick list.

Margin Comments

Enter the comment for margin examination.

200 characters

Total Lymph Nodes Involved

Enter the number of lymph nodes involved with disease as determined by pathologic examination.

5 digits

Total Lymph Nodes Evaluated

Enter the total number of lymph nodes removed and pathologically assessed for disease.

5 digits
Legend: (d) derived field, (m) RDC mandatory, (c) for CTEP reporting only.
Validations
| Code | Description | Resolutions |
| --- | --- | --- |
| SUG01 | Date of Surgery is in the future. | Enter a date that is equal to or earlier than the current date. |
Derivations
| Code | Field Name | Description |
| --- | --- | --- |
| SUG1002 | Day in Course | Derived from the respective course initiation start date. |
Overview
Content Tools
ThemeBuilder