Skip to end of metadata
Go to start of metadata
Welcome to the CCR-FYI Steering Committee 
---
The CCR Fellows & Young Investigators (CCR-FYI) Association constitutes non-tenured and non-tenure-track MDs, PhDs, graduate students, and predoctoral intramural scientists to foster the professional advancement of member clinicians and scientists at CCR 
Our role at NCI
Organize and promote training courses and seminars
Identify potential employment opportunities
Organize the annual CCR-FYI Colloquium
Provide orientation for new trainees


Be the voice of Young Investigators at NCI!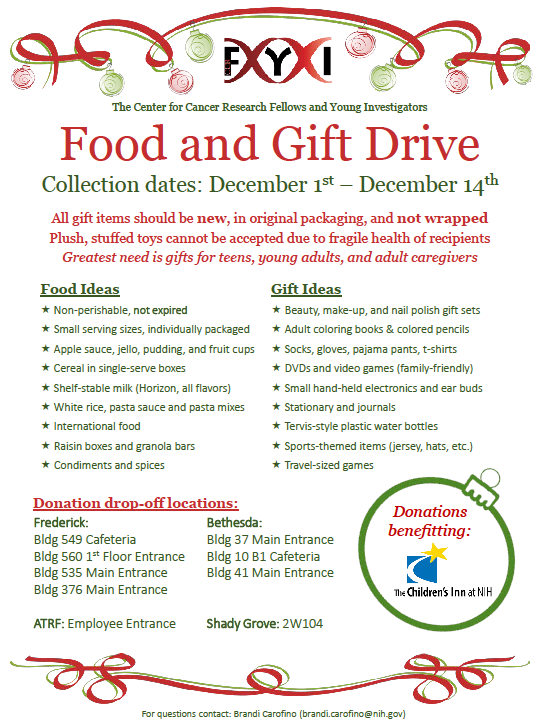 If you have any questions, please contact Brandi Carofino (brandi.carofino@nih.gov). 
 CCR-FYI is sponsoring our annual Food and Gift Drive for the Children's Inn at NIH.
One of the missions of the Children's Inn is to provide a "place like home" for children and families participating in groundbreaking research at the NIH. You can help make the holiday season feel a bit more like home by donating a new, unwrapped gift or food (single-serve items are the most needed) by Thursday, December 14th at one of our drop-off locations:
Bethesda:
* Building 10 (B1 Cafeteria)
* Building 37 (Main Entrance)
* Building 41 (Main Entrance)
Shady Grove:
* 2W104
Frederick:
* Building 549 (Cafeteria)
* Building 560 (1st Floor Entrance)
* Building 535 (Main Entrance)
* Building 376 (Main Entrance)
* ATRF (Both Entrances)
For a complete list of gifts and food items most needed by the Children's Inn, please view the attached flyer, or visit:
https://childrensinn.org/inn-wish-list/holiday-wish-list/
 https://childrensinn.org/inn-wish-list/ 
We look forward to your contributions and thank you for helping to make this drive a success!
---
---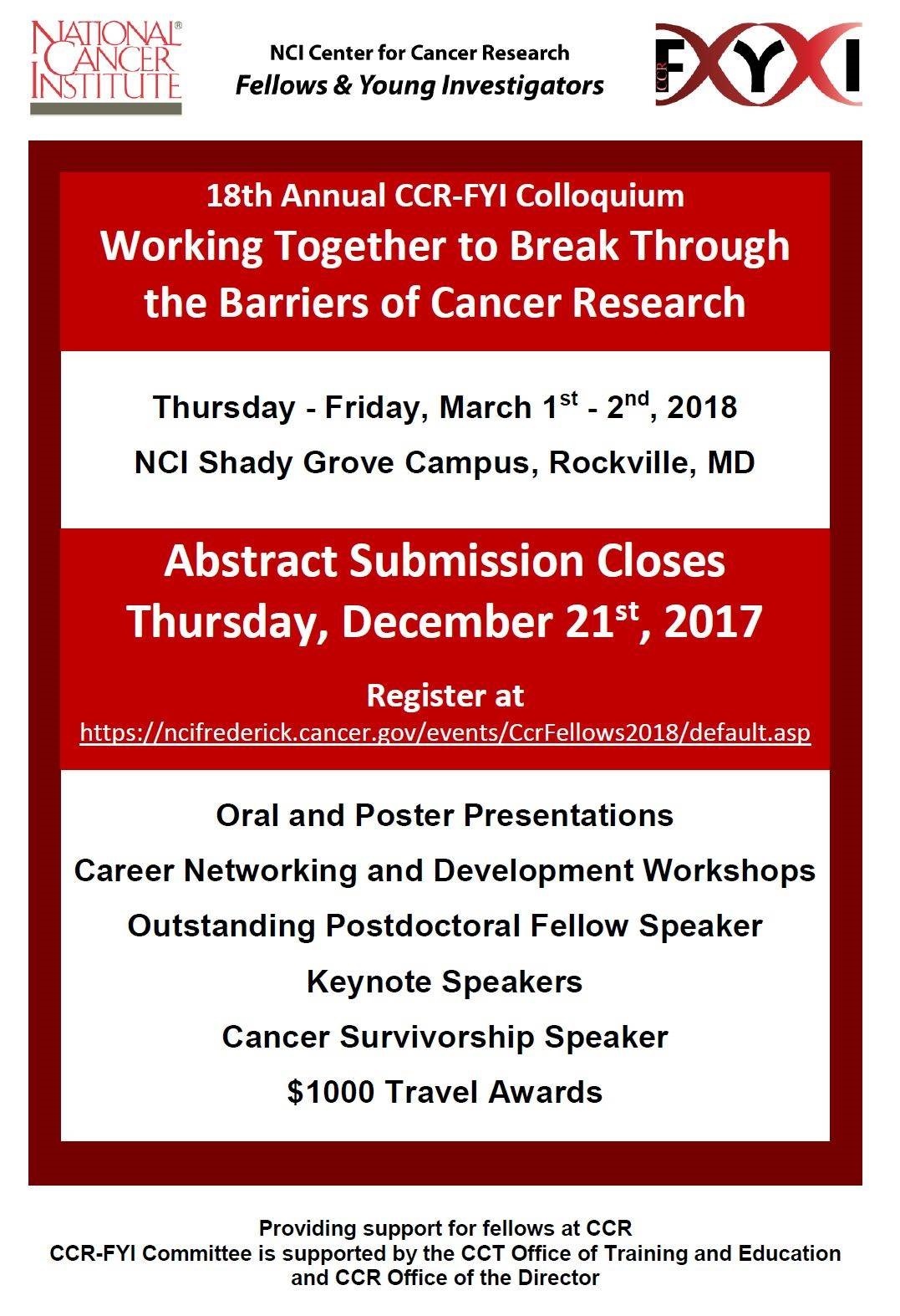 ---
The Center for Cancer Research Fellows and Young Investigators (CCR-FYI) Association is excited to announce the keynote speakers for the 
18th Annual CCR-FYI Colloquium "Working Together to Break Through the Barriers of Cancer Research"
This year the keynote speakers include:
Dr. Nikhil Wagle from the Dana Farber Cancer Institute and Harvard Medical School
Dr. Sara Courtneidge from Oregon Health and Science University
NCI's own Dr. Michael Gottesman and Dr. Kandice Tanner from the CCR Laboratory of Cell Biology
The colloquium will be held on Thursday, March 1st and Friday, March 2nd, 2018 at the NCI Shady Grove Campus in Rockville, MD.
 All NCI fellows (post-bacs, postdocs, graduate students, clinical research fellows, research fellows and volunteers) are encouraged to participate. 
Abstract submission will close on Thursday December 21st, 2017. Registration for attendees without an abstract will close on February 2nd, 2018.
The colloquium is a free venue for NCI CCR fellows from all labs, branches and research areas to present their work, participate in career development workshops, compete for travel awards, attend talks from leaders in science, and network with colleagues from all NCI campuses. We welcome ALL research topics encompassing clinical, pre-clinical, translational and basic research and encourage all CCR fellows to attend, present their work, and network in this safe environment.
More information about the 2018 CCR-FYI Colloquium including talk, workshop and panel topics will be shared at a later date.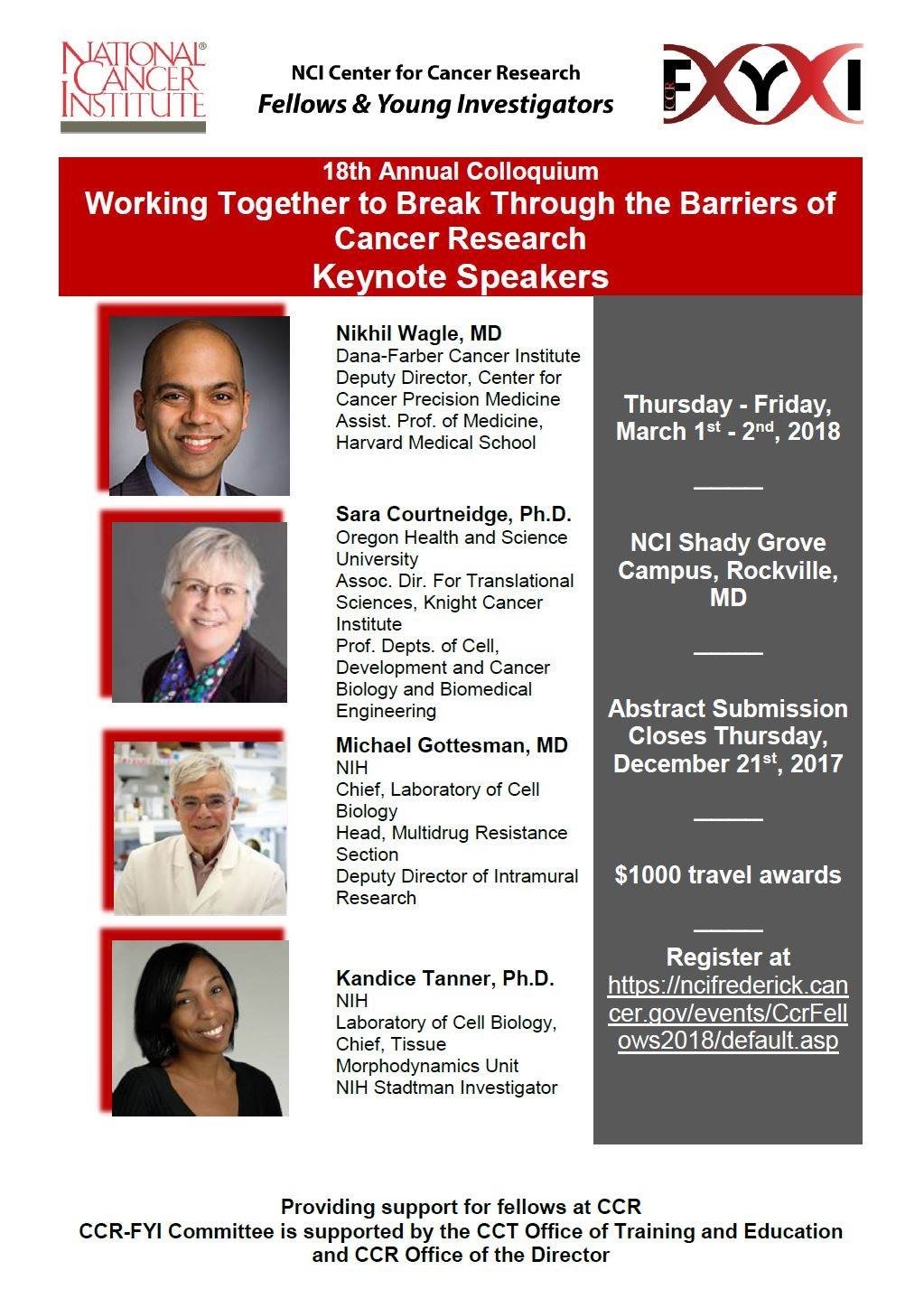 ---