The Center of Excellence in Immunology (CEI) is one of 5 Centers of Excellence within the NCI Intramural Research Program (IRP). These Centers are multi-disciplinary venues that generate connections among diverse intellectual, financial, and physical resources within the IRP to help develop new initiatives, projects, and collaborations that reduce the burden of cancer.
Mission
The Mission of the Center of Excellence in Immunology is to foster discovery, development, and delivery of novel immunologic approaches for the prevention and treatment of cancer and cancer-associated viral diseases.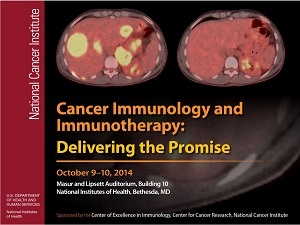 Objectives
Provide a format to integrate the diverse fields within immunology and facilitate translation of basic research discoveries into successful treatments
Serve as a distinctive think tank
Blend basic and clinical scientific expertise and perspectives
Merge disciplines and promote new perspectives
Provide attractive partnership options for academia and pharmaceutical companies
Promote interaction of immunologists in the intra- and extramural communities
Selected Activities
Annual Symposium-The 2017 symposium will be Cancer Immunology and Immunotherapy: From Conception to Delivery, to be held on October 12-13, 2017 in Masur and Lipsett Auditorium on the Bethesda campus of the NIH
The Immunology and Immunotherapy Seminar Series
Collaborations with the Center for Human Immunology
Collaborations with the Cancer Immunotherapy Network (CITN)
Partnerships with the Society for the Immunotherapy of Cancer (SITC)
Collaborations with Biotech and Pharma


Selected Recent Publications
 T-Cell Transfer Therapy Targeting Mutant KRAS in Cancer. Tran E, Robbins PF, Lu YC, Prickett TD, Gartner JJ, Jia L, Pasetto A, Zheng Z, Ray S, Groh EM, Kriley IR, Rosenberg SA. N Engl J Med. Dec 2016
Distinct Functions of Senescence-Associated Immune Responses in Liver Tumor Surveillance and Tumor Progression. Eggert T, Wolter K, Ji J, Ma C, Yevsa T, Klotz S, Medina-Echeverz J, Longerich T, Forgues M, Reisinger F, Heikenwalder M, Wang XW, Zender L, Greten TF. Cancer Cell. Oct 2016.
Ionic immune suppression within the tumour microenvironment limits T cell effector function. Eil R, Vodnala SK, Clever D, Klebanoff CA, Sukumar M, Pan JH, Palmer DC, Gros A, Yamamoto TN, Patel SJ, Guittard GC, Yu Z, Carbonaro V, Okkenhaug K, Schrump DS, Linehan WM, Roychoudhuri R, Restifo NP. Nature Sep 2016
Oxygen Sensing by T Cells Establishes an Immunologically Tolerant Metastatic Niche.Clever D, Roychoudhuri R, Constantinides MG, Askenase MH, Sukumar M, Klebanoff CA, Eil RL, Hickman HD, Yu Z, Pan JH, Palmer DC, Phan AT, Goulding J, Gattinoni L, Goldrath AW, Belkaid Y, Restifo NP.   Cell  Aug 2016
Hierarchical nanostructure and synergy of multimolecular signalling complexes. Sherman E, Barr VA, Merrill RK, Regan CK, Sommers CL, Samelson LE. Nature Communications Jul 2016
CD19 CAR immune pressure induces B-precursor acute lymphoblastic leukaemia lineage switch exposing inherent leukaemic plasticity. Jacoby E, Nguyen SM, Fountaine TJ, Welp K, Gryder B, Qin H, Yang Y, Chien CD, Seif AE, Lei H, Song YK, Khan J, Lee DW, Mackall CL, Gardner RA, Jensen MC, Shern JF, Fry TJ. Nature Communications  Jul  2016
NAFLD causes selective CD4(+) T lymphocyte loss and promotes hepatocarcinogenesis. Ma C, Kesarwala AH, Eggert T, Medina-Echeverz J, Kleiner DE, Jin P, Stroncek DF, Terabe M, Kapoor V, ElGindi M, Han M, Thornton AM, Zhang H, Egger M, Luo J, Felsher DW, McVicar DW, Weber A, Heikenwalder M, Greten TF. Nature Mar 2016