Skip to end of metadata
Go to start of metadata
Office of Research Nursing (ORN)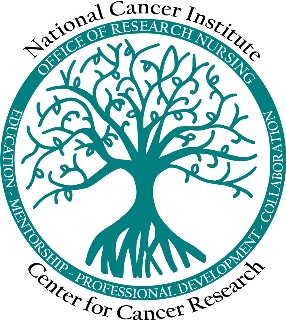 Vision Statement
To provide a unique, cohesive team of superior research nurse specialists to carry out the mission of the CCR through a culture that supports continuing education, mentorship, professional development, and collaboration while balancing comprehensive patient coordination and quality clinical and translational research.
Cell Therapy Working Group: Information and resources for research nurses opening or currently coordinating trials with cell therapy (CAR-T cells, TCR cells, or TIL cells). Click here. **Updated 11/29/2021**
Coffee & Chat: We meet the last Monday, Wednesday and Thursday of the month in room 3-2550. See Outlook invite for the time and any speakers.
CPR: Please check for classes offered by the Clinical Center Nursing Department or the ORS.  Remember to send your updated CPR card to Duwann McDonald who is the POC for the Extra-Departmental Credentialing Program. 
License Reimbursement: Anything pertaining to a background check is not authorized for reimbursement under the NIH guidance even if it's part of a required renewal/license. ORN will pay for fingerprinting, license renewal, and up to two certifications (not memberships). Please complete this form and submit it to your Team Lead, along with receipts, who will approve and send on to the Director, Office of Research Nursing for final approval and submission for reimbursement. Remember to send your updated license to CCND Credentialing & Privileging Group. 
NCI Medical Oncology Referral Office: Staffed by 4 nurses, Cynthia Boyle, Marueen Edgerly, Anne Goodwin, and Christine Muir, who assist selected teams with new patient referrals.  You can contact them via phone or email. The Referral Office shared email is NCIMO_Referrals@mail.nih.gov and the shared voicemail is 240-760-6050. The fax number is 301-451-5433.  These contacts may be given to anyone inquiring about clinical trials. They will respond within 24 hours. 
Patient Care Coordinator (PCC) Manual: Click here.
New Patients:  The NIH Clinical Center has released an informative video geared towards first-time patients to NIH. This includes information on how to get here, security and access procedures and parking. Please share with your patients.
Promotion Information for Nurses: Click here
Research Nurse Competencies: Click here 
Team Highlights: Click here
Wellness Committee: Balancing Mind, Body and Spirit. Quarterly meetings include book club discussions, birthday celebrations, Walking Wednesdays. Always looking for members. Contact Linda Sciuto for info.
Town Hall Meeting Minutes: 
---
Resources:
CCR Central/Clinical Coronavirus Guidance
CCR Referrals Database Cheat Sheet 
Directions to Conference Rooms
NCI Travel and Lodging Reimbursement Handout for Patients **Updated 4/6/22**   
NCI Travel and Lodging Reimbursement Handout for Patients (Spanish) **Updated 4/6/22**   
Patient Expiration Updates in BTRIS/CRIS 
Radiology Drop Box Instructions 
Student Loan Repayment Program (SLRP)
Overview
Content Tools
ThemeBuilder